Some dogs need one coat - their own.
For the others.....
fine dog coats by Noah's Suitcase!
The Cappy Coat
- Our most popular dog coat. The Cappy coat is a three season dog coat with a water-repellent outer jacket, lined with cozy warm polar fleece.
Colorful and fun right down to the collar!
Cappy
Stock and Custom measured dog coats available from MICRO to pony-sized canines. Taper'd profiles for deep chested dogs, we are happy to make something just for your dog. We have shown our most popular dog coats here but many other styles are available. Email us at
tynkerigge@aol.com
or give us a call 401-647-4500 and we will be glad to answer your questions on sizing, prices, etc. We can also send you swatches of current color combinations.
Our product line is unique and hard to have available at the push of a button so please call us to inquire or order. You will end up with a coat that has lasted through generations of dogs designed, created, and loved in the USA.

Rue-the-Day Raincoat - The Best!
This totally water-proof, yet breathable dog coat is a classic. Tailored with Scotchlite trim and a corduroy collar, it's a winner! Bet you wish you had one.
Josie
Our coats are always evolving with new color combinations, material choices, and design changes.
Shown on this site is a small representation of what is available.
Noah's Suitcase
coats are also available at the following upscale locations.
PAW'S PET BOUTIQUE
64 State Circle Annapolis ,MD 21401 410-263-8683
BARK PLACE
1721 Washington St. Boston, Ma South End 857-362-7494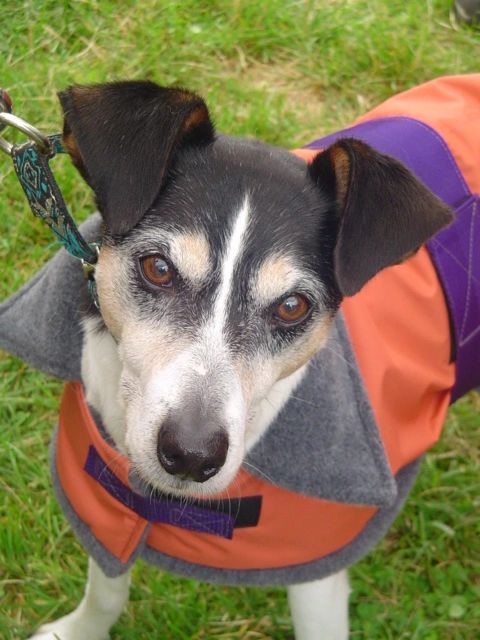 Mac "The Model"